Personal Training Classes
Self Defense Classes
Street Self-defense
Street fighting aka real fighting, reality defense or street self-defense because unlike martial arts classes environment, it occurs in a real life situation when a person is suddenly threatened, assaulted or attacked by one or many, who do not apply any rules. Attacker/s can be cruel and harsh, and all your training techniques can be useless at that moment. Only Street fighting self-defense training skills will teach you how to defend yourself in a real life situation.
Hand-to-Hand Combat
Hand-to-hand combat is physical confrontation between two or more persons at very short range (grappling distance). Hand-to-hand combat fighting incorporates techniques different martial arts and combat sports, as well as the use of striking weapons used at grappling distance such as sticks, knives, or improvised weapons.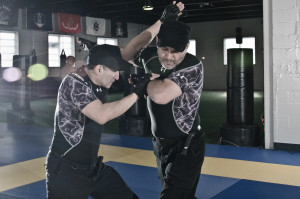 Combative school
It makes a spirit of a person tougher and makes the human being strong and unbreakable. It is an essential weapon and I teach my students how to use this weapon practically so that they always feel confident in any situation in these, often complex times.